The COVID-19 outbreak has struck since January, causing many volunteer services to be cancelled or postponed. According to the data extracted between January and May from Social Career, the elderly and children-related volunteer services were the most affected, which normally account for 60% of the overall volunteer opportunities. It also implied recipients in need of services could not get help during this difficult period. Fortunately, volunteers have found alternative methods to help those in need with their passion and resilience in the face of adversity.
"Work from Home" and "Online Learning" are new terms that everyone familiar with in 2020. At the same time, "virtual volunteers" have become a trend in the volunteer world too. Many non-profitable organizations have gradually turned their volunteer services online in response to the needs of the underprivileged during the epidemic. Books & Beyond Reading Club , an outreach community service program that provides free English reading programs to local elementary school students, is one of the organizations that do so. Due to the pandemic, around 70% of face-to-face interactive storytelling classes and more than a dozen outdoor activities were forced to cancel. Seeing that there is no sign of easing the pandemic, Books & Beyond Reading Club decided to redesign all the courses in early March and use Zoom (an online video-conferencing platform) to interact with students. Since mid-March, the program has carried out more than 300 classes. As the activity is held in small classes (groups of 4), the class became more interactive while the effects of the activity were also better than expected.
Barbara Kwok, the founder of the project, said, "Zoom has brought us unexpected gains and the students' grades have improved a lot as well! If the pandemic continues in the next school year, we will keep holding classes in the same way."But at the same time, there are difficulties of using online teaching platform. "We must build a close relationship with our students, otherwise the teaching method will turn into a "TV-watching" mode. In view of this, we need to recruit volunteers who can provide long-term service. If there is any volunteer who can devote at least 12-15 hours in the next school year, feel free to follow the service details (will be announced in mid-August)."
Simultaneously, elderly homes have banned family and friends from visiting. The elderly cannot go out or meet their families, affecting their social lives. In light of this, the Po Leung Kuk's Multi-disciplinary Outreaching Support Teams for the Elderly have established a video visit team. Volunteers are invited to communicate with the elderly through video calls, which aim at letting the elderly feel being cared and deliver positive energy to them. During the video visit, the volunteers will not only arrange games or sports for the elderly, but also interact and chat with them.
Apart from virtual volunteers, many community groups and service organizations, such as Crossroads Foundation, have implemented an online platform "Good City" to help people in need during the pandemic. Crossroads Foundation is a non-profitable organization established in Hong Kong, aiming to provide an intersection to link those who are in need with those who can provide help locally and globally, which serves as literally a crossroads. Due to the pandemic, most of Crossroads' regular services are suspended, including experiential activities, application on donated items, global distribution, and local donations. [Sign up now / Service details]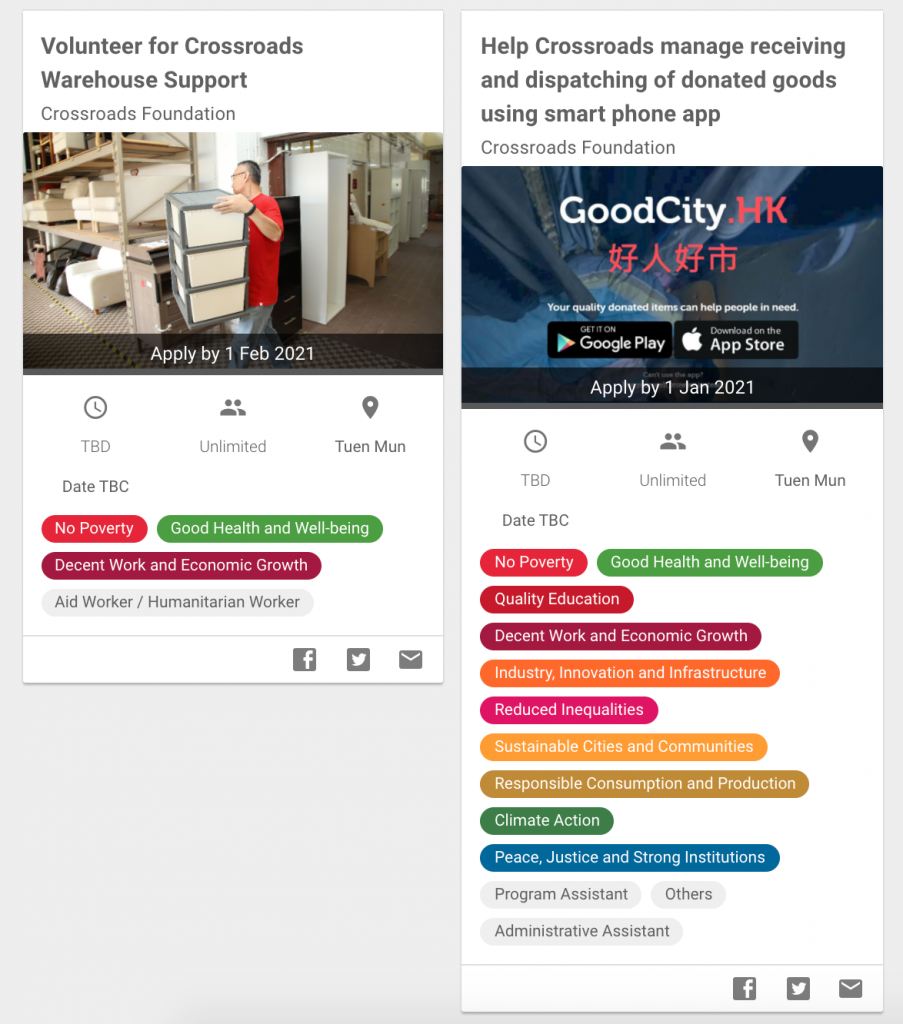 Ben, NGO Liaison from Crossroads Foundation, said, "In general, the beneficiaries can come to our distribution center directly through social workers' referrals and make an appointment to check whether the items are suitable. In order to minimize the risk of COVID-19 spreading in the community, the previous appointment mode was changed to online mode, in which social workers and beneficiaries browse the items through Good City App and apply online. Crossroads volunteers will use the App at home to process orders and arrange delivery so that quality items can still be delivered to those in need during the pandemic." In addition, Ben also found that many families are still lacking anti-pandemic materials, including masks and hand sanitizer. "We sincerely hope more people can donate anti-pandemic supplies and gadgets like laptops, notebooks or tablets to support students' home learning, so that we could better fulfil the needs of our clients, and hence serving them with care and hard work to fight the pandemic together."
This shows that the power of volunteers are not deterred by the pandemic, but the service of volunteers has diversified. At present, Social Career gathers volunteer job opportunities from more than 700 NGO partners and provides more than 6,000 volunteer opportunities. It allows volunteers to make choices based on their interests, expertise and time. Click here to apply for volunteer jobs, and join hands to fight the coronavirus.
Comments
comments