Volunteer Translator: Wendy
Yesterday was a memorable day for "Build & Wish Voluntary Team" and "Footprint Voluntary Team". We have kick-started the first joint volunteer project "Debugging Works – for the needy with the needy by the needy", a free service for the underprivileged households with serious bug attack for years without any help anywhere.
Our first experience on Debugging Works was about helping a 90-year-old elderly suffered from bed bugs for years. The condition was so severe that the home care services like household cleaning and meal delivery were suspended.
Special thanks to Joe, the chairman of  "Footprint Voluntary Team" to be the project leader and work together with the volunteers form the team, and Kit from "TY天乙" volunteer team.  They gave training to four volunteers recruited from the Society for Community Organization (SoCo) by a social worker called Mr. Ng Wei Tung 吳衛東. The four volunteers from low-income families supported with training subsidies aimed to give back the community with the newly equipped skills.  This project brought people from different backgrounds to work together, to tackle the bedbugs infestations.
We received materials and technical support from professional pest control companies "iDeBug" and "Century Strong", and valuable advice from various parties to achieve this. They are specialists from the Food and Environmental Hygiene Department, Mr. Chan Bing Lun陳炳麟 from "Bugs Killer Volunteer Team" (滅蝨特攻隊), who is also known as the godfather of social workers; and Mr. Tang Wai Yin鄧渭然, an experienced volunteer.
In the operation, all severely damaged furniture will be disposed of after delousing treatments to avoid the bedbugs spreading.  Our volunteers need to take extra care of their clothing to avoid bringing any bugs home.  Their efforts are greatly appreciated.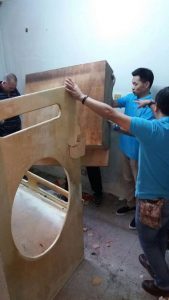 If you are interested in the work of the Build & Wish Voluntary Team. You can visit the Social Career platform for more details.
Comments
comments