When we talk about elderly voluntary services, what come first to our mind are home visiting, home cleaning etc. In addition to that, we could also express our care and warm wishes to elderly persons throughout more practical action. For example, trained volunteers can perform a simple assessment or testing on the elderly and referring to the appropriate specialists or healthcare professionals for following up checking in door-to-door mode if needed after completion of 1.5 hours training programme.
Volunteer Reporter: Kitty
Volunteer Translator: LEE Yeung-siu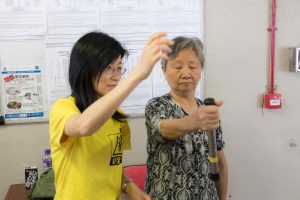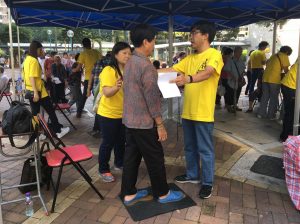 Recently, I have read a volunteer recruitment of Elderly Falls Prevention Road Show, which was run by an international Christian charity HOPE worldwide, from the Social Career platform. According to the web site of HOPE worldwide, 1 out of 5 elderly in Hong Kong has experienced falls at least once. Among those who had falls, they have 4 times higher risk of falls than those had not. Some elders would subsequently have reduced mobility and decline in self-care ability, some would require institutionalization afterwards. Prevention is better than cure – dissemination of fall and fracture prevention knowledge is a must.
As mentioned above, the volunteers programme required 1.5 hours training includes awareness of home safety, falls prevention, blood measurement and three items of Fall Risk Assessment: Thigh Strength Test, Reaction Test and Balance Test. In Elderly Falls Prevention Road Show, from early May 2017 to late June 2017, over 10 mobile booths were set up in public estates and elderly community centres. The trained volunteers were able to identify the risk level of fall from those elderly through the quick assessment. High risk cases were followed up by physiotherapists who would organisedhome visit to the elderly. The visited was probably given the walking aids or installing bathroom grab rails free of charge.
Most participated elderly thought that the campaign was successful and fall risk assessment was useful for them. Thus, the more volunteers participated, the more elderly gained. With the slogan of "Zero case for all, happy life for all", the Campaign aimed at raising the public's interest in elderly safety, promoting the benefits of doing regular fall risk assessment, improving self-care ability of elderly and encouraging the old healthy living and strengthen social support so as to minimize fall and fracture.
Event Details:
Comments
comments