從觀察樹木,到反思香港的城市綠化
文章/相片: Ellen
提起灣仔皇后大道東一帶,你會想起什麼?星街小區的美食?利東街?或是洪聖古廟呢?
不講不知,原來在灣仔區內也是一個觀樹好地點﹐因為當中有不少開花樹和特色樹。
最近我參加了由珍古德協會舉辦的《根與芽行動:城中樹目》- 為期兩天的樹木導賞員訓練。透過註冊樹藝師Andy Sir 帶住我們一行十多名樹木大使義工,在4月22、28日遊遍灣仔皇后大道東一帶,認識了一棵百年歷史的細葉榕;春天會開滿紫藍色花的藍花楹;滿有香港特色的石牆樹、番石樹;還有一棵樹葉帶有香甜味的楓香樹等。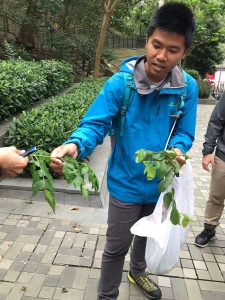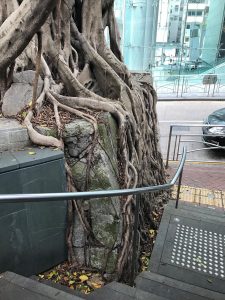 聽著Andy Sir 講解這些樹木的特徵、生長需要,以及它們和灣仔的相關歷史故事,再環看樹木四周的生長環境,我開始明白到大樹在現時香港的生存限制。如果我是樹的話,相信必定會患上抑鬱症。
試想象一棵樹的根,本應跟它的樹冠一樣闊,誰知因為地下要讓給各種各樣的電纜、水管和光纖電話線等,最後只剩下 1 平方米的樹池讓樹木的根部生長,導致樹根不是逼爆地面,就是樹木不能正常生長。有些樹種本來是生長得很快很高大,但偏偏種得太近民居,致最後因為樹冠太闊遮擋居民窗戶,而慘被斬樹。這些都是證明了香港的所謂樹木管理,其實普遍都偏重於「即時綠化」,而忽略了樹木本身的種植條件和需要。
其實當今樹木在香港的城市規劃中,除了擔當「城市綠化」的角色之外,已經漸漸淪落到只為地產項目增值的其中一個元素。這個是否我們在進行環保和綠化之後,希望所得到的結果呢?怎樣才可以真正達到環境保育,人樹共融呢?
不過還是回到最實際的一環,我在不久的將來就要擔當樹木大使帶隊觀樹了,所以現在還是實實在在地先温習樹木資料吧!至於以上的迷思,就留待我帶隊觀樹時跟大家一起討論,好嗎?
活動相關資料
「根與芽行動 之 城中樹目導賞計劃」
https://socialcareer.org/#!/job/detail/910000536
[Learn to be a Tree Ambassador] – from Tree Observation to Reflection of Urban Afforestation in Hong Kong
Translated by Voluntary Translator Aileen Ip
When it comes to Queen's Road East in Wanchai, what comes up to your mind in the very first place? Gourmet in Starstreet Precinct? Lee Tung Avenue? Or Hung Shing Temple? It is rare but worth to mention that Wanchai is indeed a spectacular spot for tree observation with quite a lot of blooming trees and special species in the district.
Lately I have participated in the "Roots & Shoots Campaign: Tree Eye in the City", a two-day tree docent training program that held by Jane Goodall Institute, Roots & Shoots Hong Kong. Under the guidance of a certified arborist Mr. Andy, our crew of more than ten voluntary tree ambassadors strolled through Wanchai area along Queen's Road East on 22 and 28 April, gained knowledge of a Ficus Microcarpa with 100 years of history. Besides, Jacaranda Mimosifolia with bluevoilet blossom in Spring; stone wall trees, stone rolling trees that features Hong Kong's uniqueness plus a Liquidambar Formosana of leaves with pleasant and sweet smell, etc.
After listening to Mr. Andy's elaboration on the characteristics of these trees, their growth needs, and their related historical stories binded with Wanchai, we looked around the surrounding environment for nurturing these trees. I began to realize the limitations in survival for big trees in Hong Kong nowadays. If I were a tree, I believe that I would definitely suffer from depression.
Imagine that the roots of a tree should be with the same width of its canopy, however as the underground has to give room to various cables, waterpipes and optical fibres, etc., only 1m square of tree pool is left for the growth of its roots at last. This either leads to exploded surface broken by tree roots, or hinders trees from growing normally. While some species can grow very fast and tall by themselves; they are however planted too close to residences. Therefore, they are sadly chopped down with their canopy being too wide blocking views from windows of these residences. These all have illustrated that so-called tree management in Hong Kong in fact tends to generally emphasize "Instant Afforestation", but overlooks the planting conditions and the needs of trees very own.
In fact, apart from playing the role of "city greening" in Hong Kong urban planning, trees today have gradually turned to be simply one of the elements that serves to add value in real estate projects. Is this really the result we long for after pursuing environment protection and afforestation? In what ways we could truly achieve the purpose of environmental protection, meanwhile human beings and trees can co-exist? I rather address the most realistic issue, that is my commitment as a tree ambassador leading a group in tree observation on 21 and 28 May. So now I better revise hard the tree information first! Regarding the above puzzle, let's wait until our discussion during my docent service in tree observation, deal?
Relevant information:
"Roots & Shoots Campaign: Tree Eye in the City Docent Training Program"
https://socialcareer.org/#!/job/detail/910000536
English translation is for reference only, original Chinese content shall prevail in case of any ambiguity.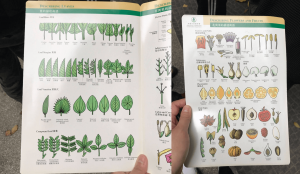 機構簡介, organization's profile: https://socialcareer.org/#!/ngo/about/janegoodall
義工機會, organization's volunteer jobs: https://socialcareer.org/#!/ngo/volunteering/janegoodall/600507
更多義工機會, more volunteer opportunities: www.socialcareer.org
Comments
comments